Trace metal digestion unit
For determining the acid-soluble proportion of metals in sewage sludges, sediments and soils with aqua regia, e.g. in accordance with DIN 38414/German standard method.
Digestion in aluminium heating block with precise temperature control.
Racks and frame covered with special acid-resistant coating.
Reliable technology from C. Gerhardt with innovative functions facilitate the daily routine in laboratories and enable a smooth digestion process.
Available with various configurations.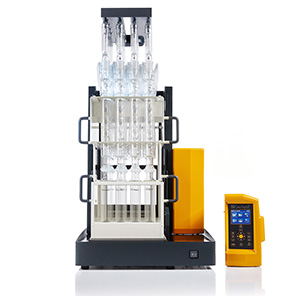 Trace metal digestion unit
Order data
under » Further Details
Dimensions (W x D x H)
515 x 483 x 990 mm (8-unit, without lift)
515 x 483 x 990 mm (8-unit, with lift)
515 x 483 x 990 mm (20-unit, with lift)
Weight
33/48 kg (8-unit, without/with lift)
63 kg (20-unit, with lift)
Scope of delivery
KJELDATHERM digestion block
Insert rack for digestion tubes
Insert rack for water condenser
Multi-level console
Water condenser
Heavy metal condensation traps
Digestion tubes
Tubing set
Cooling water lines
Drip tray
PVC exhaust manifold
Water jet pump
Programmable controller unit
Operating manual