Novelties in the Kjeldahl series 2018
Last month, we had taken the opportunity to present our brand new product enhancements to the public on the occasion of Achema in Frankfurt.
The feedback from our many visitors from all continents, partners. prospective partners, customers, potential customers and student groups was truly encouraging.
We exhibited our full product range and especially highlighted: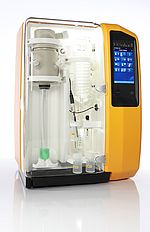 The brand new flagship of our successful VAPODEST® line.
VAPODEST® 500 is the instrument with the most comprehensive scope of functions. It is the best option for laboratories emphasizing a safe, reliable and highly flexible instrument, which guides operators interactively through analyses and SOP`s (Standard Operating Procedures) and fulfils the highest data management requirements.
VAPODEST® 500 is designed for results to fully conform DIN EN ISO, AOAC, EPA, ASTM, EC regulations, APHA, Ph. Eur. 2.5.33 method 7, procdure A.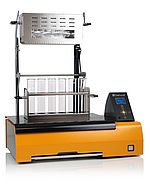 The successor model of TURBOTHERM will be equipped with a modern energy/time controller. The digestion process can be monitored by means of an energy/time graph in the display.
Two user levels with defined rights and password protection contribute to a tamper-proof analysis. The special surface of enamelled stainless steel protects the system reliably against acid attacks.
Powerful fume suction washer for the separation and neutralization of inorganic acid fumes created during Kjeldahl digestions. No water supply needed. VACUSOG comes with a powerful 4-step separation concept:
Neutralisation bottle
Washing bottel
Condensate traps
Activated carbon filter
plus an additional condensate bottle for digestions of samples with high water content.
The Market introduction is going to take place in September. Currently we are completing all documents to offer you in time the full media package and technical documentation.