For determining the chemical oxygen demand, e.g. in accordance with DIN 38409/German standard method H41.
Digestion in aluminium heating block with precise temperature control.
Heating up samples to 148 °C in less than 10 minutes.
Reliable technology from C. Gerhardt with innovative functions facilitate the daily routine in laboratories and enable a smooth digestion process.
Available with various configurations.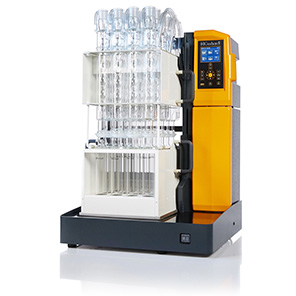 Order data
under » Further Details
Dimensions (W x D x H)
515 x 483 x 790/1140 mm (8-unit, with/without lift)
515 x 483 x 790 mm (20-unit, with lift)
Weight
24/46.5 kg (8-unit, without/with Lift)
61.5 kg (20-unit, with Lift)
Scope of delivery
KJELDATHERM digestion block
Insert rack for digestion tubes
Digestion tubes
Air condenser*
Programmable controller unit
Operating manual
*For automatic systems with lift:
multi-level console with water
condenser insert rack,
water condenser,
cooling water lines,
drip tray and tubing set