DUMATHERM - the automatic nitrogen analyzer for high-throughput laboratories
If you determine the protein content of many samples every day, the automatic nitrogen analyzer DUMATHERM will inspire you:
Nitrogen determination of your samples is 70 times faster than with the Kjeldahl method.
The DUMATHERM operates without aggressive chemicals and therefore requires no space in the fume cupboard.
The DUMATHERM uses up less resources. The costs per sample are therefore lower, and you'll work more economically.
All DUMATHERM components are easily accessible. Maintenance can be carried out within a few minutes. This gives you extra time for nitrogen determination compared to using other nitrogen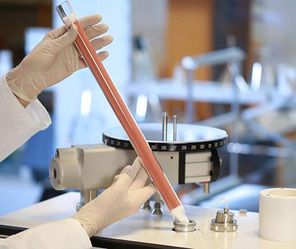 Nitrogen determination in fertilizer
Modern agriculture has increasingly developed into an essential economic sector worldwide. As in many other industrial sectors, the efficient use of all available ressources is becoming more an more important. One of the major raw materials is the fertilizer, as an essential factor for the plant growth
Learn more
The modern food market is more dynamic than ever with consumers following several trends and all kinds of special diets. What they all have in common is that they are part of a healthy lifestyle based on a specific nutrition. Most customers are aware that protein is an important part of their diet...