This will make your manual Kjeldahl analysis take off. The combined apparatus, consisting of a Kjeldahl digestion unit and a distillation unit, lets you analyse up to 6 samples per unit simultaneously.
The compact design and vertical build of the apparatus leaves you with more space in the lab. The ergonomic arrangement allows you to work safely and relaxed.
Trust in our 130 years of experience with Kjeldahl instruments. The complete set we offer provides you with all the components you need – from the glass exhaust system to all connecting hoses.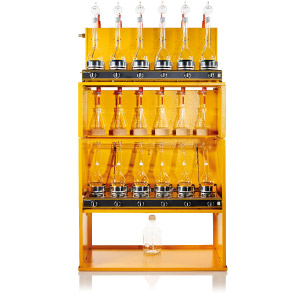 Digestion and distillation apparatus
Order data
10-0035 Digestion and distillation apparatus KI13/26
6-unit, with 500 ml flasks
10-0036 Digestion and distillation apparatus KI13/26
6-unit, with 750 ml flasks
Dimensions (W x D x H)
970 x 470 x 1820 mm
Weight
75 kg
Scope of delivery

Complete combined apparatus with
sample tubes, Erlenmeyer flasks
and all glass parts,
water jet pump
2 l washing flask
Operating manual